Press
FOUR POINTS BY SHERATON DELHI IS FEATURED IN ASIANA MAGAZINE
WHY AQUACASIA FROM THE INDIAN OCEAN IS THE LATEST FOOD TREND TO WHET YOUR APPETITE
Angelina Villa-Clarke ,  Contributor.
Were you first in line when Peruvian restaurant Lima opened in Fitzrovia, London? Do you have New York City's East Village's The Bao on speed dial when it's time for soup dumplings? And did you know what a poke bowl is before Hawaiian chefs even thought about exporting it? Then, no doubt you'll already be all over Aquacasia – the newest food trend heralding from the Indian Ocean.
Conceived by Willibald Reinbacher, resident chef of Shanti Maurice, a luxury resort in Mauritius, it puts a culinary spotlight on a region that has previously been overlooked.
Originally hailing from Austria, Reinbacher was renowned for his contemporary European cuisine, but having arrived at the top end resort, he was inspired by the abundance and wide array of natural produce particular to the area. Wanting to find out more about local recipes and traditions, the chef traveled extensively around the region – including to Madagascar, Seychelles, Reunion and Indonesia – meeting street traders, family cooks and local chefs and learning about age-old recipes handed down through generations. As spices were passed between islands throughout the trade routes of the Indian Ocean, each local culture developed their own unique style of cuisine. From the delicately fragrant Mauritian smoked blue Marlin to the rich complexity of a Maldivian style Lamb Mashroshi, the mastery of spice, he learned, plays a pivotal role in forming the unique and fascinating flavors of the region.
The result is a rich and varied menu at the 'Stars' restaurant at the lifestyle resort Shanti Maurice, and also showcased, for those further afield, in a new glossy book Aquacasia – Culinary Jewels of the Indian Ocean Cookbook.
Fresh exotic fish, tropical fruits and vegetables that are plentiful in and around Mauritius have been elevated to a fine dining experience at the five-star bolthole, a little slice of heaven which is celebrating its 10 year anniversary. Located on the island's unspoiled south coast, the ocean-facing resort offers an indulgent retreat – with pristine beaches, tropical gardens, and its own herb, vegetable and fruit gardens – perfect for further foodie inspiration.
Find our about the latest food trend @aquacasia – from the Indian Ocean @Shanti_Maurice #mauritius @WillibaldReinb1
The book, meanwhile, features 60 recipes curated and crafted by Reinbacher and photographed by renowned food photographer, Lukas Lienhard. Paying tribute to the gastronomic diversity and flavors of the Indian Ocean, Aquacasia captures each of the country's culinary treasures, variants of spice and authentic approach to food.
Its aim, ultimately, is to establish Mauritius as the center of a new movement in global cuisine, which encompasses unheralded traditional dishes from all the islands of the Indian Ocean.
From the White Fish and Coconut Ceviche to the Soft Shell Crab Pakora, from the Malagasy Chicken Stew to the Rodrigues Salted Fish Rice, above all it is food that takes center stage – despite the fact that the Stars restaurant has a jaw-dropping location overlooking the star-lit ocean beyond. You'll notice it, but not until after you've been wowed by your starter.
Following the book launch, the hotel has continued with its foodie mission, currently offering interactive Aquacasia cooking classes and the launch of a local Chefs' Academy at Shanti Maurice. It's island life, elevated. You read it here first.
Read more of my work on my blog at angelinascasa.com
SPA-SEARCHING FOR THE SOUL: SIDDHARTH SHANGHVI VISITS THE BEST SPAS IN INDIA
A friend travels for adventure-themed breaks, in the hope that a paragliding accident might relieve her marriage of the husband. Another buddy, who crosses continents for wine-tasting holidays, confessed a perfect trip meant being sloshed 'by or around breakfast'. Specialist travel – including to massage parlours in Pattaya – changed the way we look at travel: in lieu of aimless drifting, there had to be a focus, a peg, a point-to-point series of attractions. Internationally, spa circuits are popular.
Recently, as I met my middle age with a mood disorder, I decided to check into a few spas to see if they might save me from devolving into an 'Uncle' − which is what the neighbourhood kids call me lovingly (I cannot tell you what they call me otherwise).
I'd flown from Chiva Som, my favourite wellness centre in Thailand, to its chief rival, Ananda, in the Himalayas. They're a bit like sparring sisters at the ball, both differently gifted but equally powerful, with exceptional strengths. Ananda's fine therapists have been poached by spas internationally. When I met one of their former managers abroad, I joked about how many of the Ananda team were now with him. "That's not poaching," he quietly countered. "That's smart hiring." If this Himalayan resort enjoys lifelong loyalists, it's thanks to its talented, tireless therapists – they're among the best in the world. On my first day, after a jasmine salt scrub and an aromatherapy treatment, my Tinder profile, with spanking new photos in mountain light, landed an app-crashing boost (everyone was a good 150kms away proving that distance does, indeed, add enchantment to the dad bod).
My yoga class in their handsome pavilion was a study in perfection; my instructor was the solid, silent type whose sincerity allowed me to ignore a visiting minister's handlers waiting around me as I performed surya namaskars (I was, for the record, extremely flattered when one bodyguard snapped a photograph, perhaps to show his children that middle-aged men can still stretch). I persevered, taking in the marvellous views of the hills, the clean, crisp air and the thrill of being treated like a social media star from outer Rishikesh.
Guests visit this resort year after year because it's nailed classic Ayurvedic treatments, such as Nasyam (it did wonders to assuage my citified lungs, as did the Urovasti, which involved a black gram powder paste on the chest followed by an application of Dhanwantaram oil). My most memorable treatment was Njavarakizhi: Njavara rice boiled in the decoction of the herb bala with milk. This cooked rice is later bundled up and used for therapy. Your skin − and your vitals − feels renewed; I was quiet for a long spell after this treatment, something on the level of my consciousness had shifted, I had encountered something sage and potent.
What distinguishes this spa from others − which are privileged by swankier rooms − is that it's a fundamentally serious place for sorting yourself out. Yes, their treatments for body renewal − such as the gentle eye rejuvenator − are sterling, but I'd go back for their authentic interpretations of Choornasweda or their Pizhichil (and I'd definitely angle for one of their gorgeous private villas over the rooms).
STREET ART FOR MANKIND SETTLES IN MIAMI TO MAKE A STAND FOR THE CHILDREN IN OUR COMMUNITY IN PARTNERSHIP WITH VILLA AZUR AND BRASSERIE AZUR.
My Daily Cafe
Following on their UN exhibition in New-York City, Street Art for Mankind settles in Miami to make a stand for the children in our community in partnership with Villa Azur and Brasserie Azur.
From February 10th – 20th, 35 street artists from all over the world will unite in Miami to create unique and monumental paintings, reviving the surrealist technique of the 30's, while shedding light to the tragic reality of child labor and child slavery.
Funds raised (via ticketing and art sales) will benefit Nobel Peace Prize-winner Kailash Satyarthi's foundation Bachpan Bachao Andolan – an India-based movement campaigning for the rights of children centered on ending child labor and human trafficking, aiding "raid and rescues" initiatives, and creating "child friendly villages."
Address of the event: 7401 NW Miami Court, 33150 Miami
THE LONDON ECONOMIC RESTAURANT REVIEW MARGOT
though all restaurant experiences revolve heavily around eating, so many restaurateurs fail to understand that there's more to a great restaurant than just good food.
From service and general ambience down to the smallest, most pernickety details, the overall experience – from walking through the door to picking up the bill – is everything. Some of the best food I ate last year, for instance, was at a restaurant I actively despised. The culinary skill displayed was exceptional, though the venue's only redeeming quality.
Opened at the end of 2016, Margot is a restaurant that prides itself on experience (namely service) just as much as the quality of food served. At the Drury Lane end of Great Queen Street, between Holborn and Covent Garden, Margot is the first restaurant from Paulo De Tarso and Nicolas Jaouën, having previously worked together at Scott's in Mayfair. Paulo is on hand during our visit: visiting each table and going out of his way to make all diners feel special.
As soon as we cross the threshold, our coats are taken and we're lead to our table. We sit down and two sticks of grissini arrive, instantly, while we peruse the relatively extensive menu. Waiting staff are friendly and seem delighted to answer questions about the restaurant, specific dishes, specials and wines. They're also happy to recommend dishes, and make generally brilliant choices. Above all, however, the service is never intrusive and no member of staff visits the table unnecessarily.
Alongside the first-class service and the food served, there's a sense of glamour from a bygone era that's impossible to avoid falling in love with. Art deco fixtures are teamed with plush blue leather blanquettes at every table, matching dome-shaped wall tiles, sympathetic lighting, and an open (discrete) kitchen. What's more, in all of its elegance – the atmosphere is surprisingly unpretentious.
As for the food, the menu is created by Executive Chef Maurizio Morelli. With an a la carte selection of over 40 dishes, the menu is divided into tapas-sized plates of Italian salumi or cheese, starters, main courses, pasta dishes, salads, plus an assortment of carpaccios and tartares. What's more, all of the salads and pasta dishes are available in two sizes – not unlike at The Wolseley.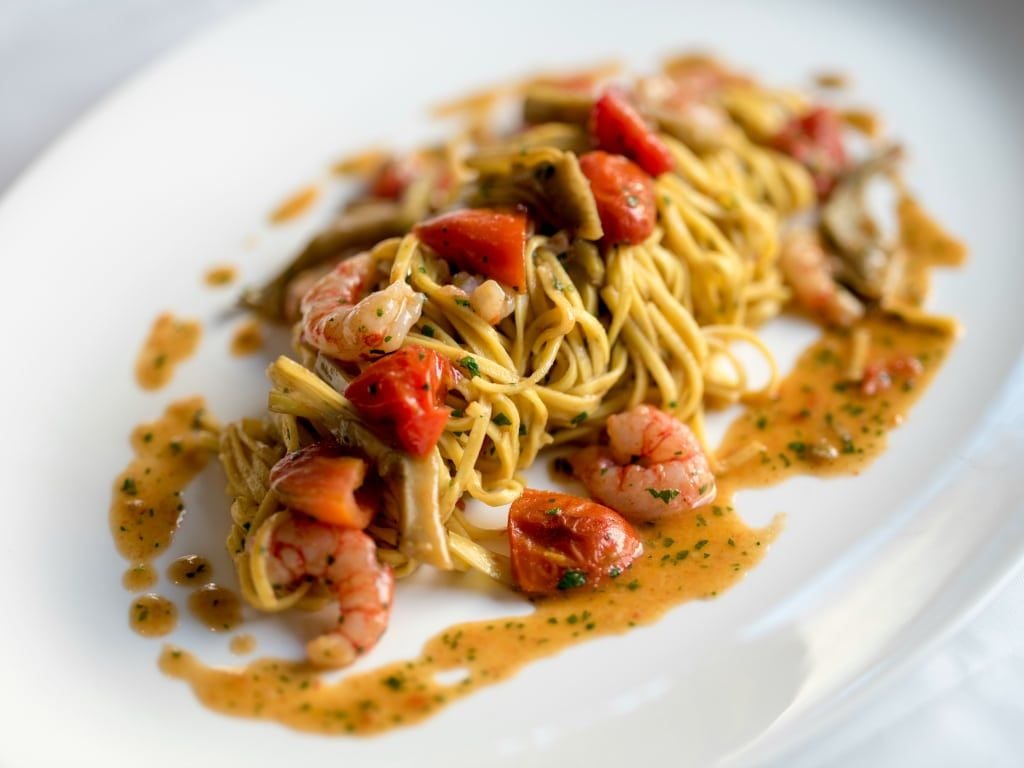 From the raw section, paper-thin slivers of Sicilian prawn are spherically arranged in the centre of the plate and accompanied by raspberries, which are on the tart side. While the raspberries contrast the natural sweetness of the prawn, they threat the overpower their delicate flavour, making this more of a fruit dish than a fish dish. Far better is stewed octopus, comprising chunks of tentacle finished on the plancha grill and served atop a bed of silky chick pea purée. Although difficult to cook well, the octopus is executed perfectly with a soft, pleasing texture, and has a warming richness that renders the dish a fine example of refined comfort food.
More prawns come with a dish of tagliolini. These Sicilian red prawns are sweet and buttery, in harmony with shavings of globe artichoke and sauce with a subtle ripe tomato base. The pasta has been cooked for a mere 20 seconds longer than desired, but the balance of flavours is outstanding. A substantial dish of venison saddle, is cooked to a perfect medium-rare, sliced and fanned-out across the plate. The meat is wholesome and rich, but without being overwhelming, while a silky smooth pumpkin puree has complementing earthy notes in contrast with glazed chestnuts.
From the daily specials on offer, a dessert of Gianduja mousse is beyond comforting. The mousse of hazelnut-heavy chocolate, like the most lavish Nutella, is stacked with biscuit, cherries, raspberries and blackberries. Each bite is the essence of any chocolate-enthusiast's dream pudding. Flat Sicilian cannolo, on the other hand, is light and refreshing. Thick ricotta cream is sandwiched between two layers of wafer thin pastry. It's as good as any cannoli I've eaten in Italy, though it's the accompanying rocher of pistachio ice cream that really sets this dish apart.
Since opening, Margot has been accused of being expensive. With wine pairings, additional drinks and sides, it is easy for the bill to accumulate. Though starters are somewhat pricey, mains, however, range from the early teens through to a whole sea bass for two (£60) being the most expensive on the menu. The main dishes, in fact, make Margot one of the best value fine-dining destinations in London.
With exceptional service and well-executed food – Margot is one of the city's few genuinely brilliant high-end Italian restaurants.
Margot can be found at 45 Great Queen Street, London, WC2B 5AA.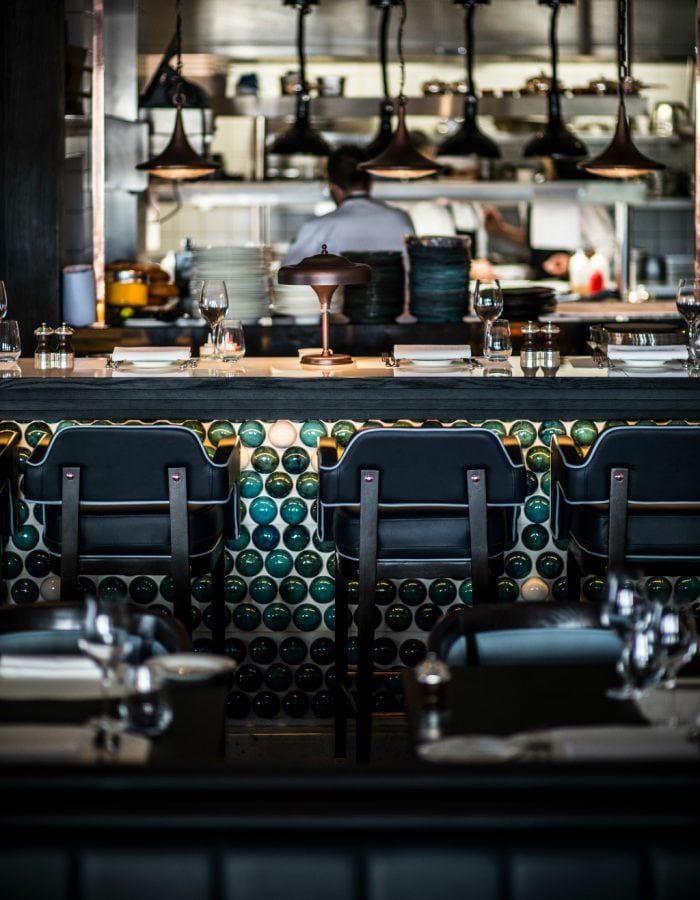 © Shanti Hospitality Group 2017